by Shari Finnell
Have you ever come across a dessert you didn't like?
Sure you have. Think about it. I'm talking about a Mile-High Chocolate Cake glistening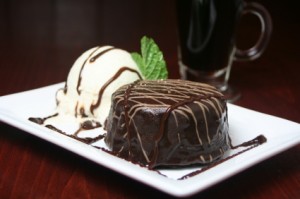 with frosting that ends up tasting as dry and flavorless as 5-day old bread. If it truly was bread you were chowing down on, it wouldn't be all that disappointing. But dessert? The promise of something divine? There's something sinful about it when it doesn't measure up to our expectations.
The same thing can be said of Infographics. There's a reason these graphic renderings of content have reached superstar/viral status in the SEO industry. When they're good, they're hard to resist. There's nothing quite as enjoyable as reading a well-designed Infographic. It's like a picture book for adults.
With those types of expectations, it's disappointing to come across one that falls flat. Sort of like that cake … gorgeous but disappointing when you really get down to it.
Here at Slingshot SEO, we have a department dedicated to producing Infographics that have both looks and substance.
7 steps provided by our team for building a viral-worthy Infographic.
CHOOSE YOUR TOPIC. Explore several topics that will capture your targeted audience's interest. Find out which topics and events are trending right now go researching on Google Trends. Make sure the topics are relevant to your objectives as well as your readers. After narrowing it down to one, choose an angle to further define it. Think of your objective. Do you want to entertain your readers with interesting facts or figures? Do you want to educate them on a certain topic by providing them with news they can use?
GO OVERBOARD WITH RESEARCH. This step should be exhaustive. After choosing your topic, take the time to thoroughly research it by gathering the latest news about the subject, including statistics, rates, history, unusual developments, etc. Take your time. Dig in. Gather more information than you probably will need. Use those statistics and information your targeted readers can relate to, keeping in mind how you intend to promote it.
REFINE YOUR TOPIC. After all that research, chances are you came across a more interesting premise for your topic. Go for it, only using the most interesting pieces to build upon your foundation. Resist temptation to load your Infographic with a ton of information. Think back to those picture books you used to read. Refine, refine, refine. Stick to interesting bullet points. Compare your proposed Infographic to similar ones that are already out there. Make sure you're providing a new perspective.
Leave them satisfied, but wanting more. You want to elicit a reaction from them.
COLLABORATE WITH YOUR ARTIST. Express your overall vision with your artist, but be open to feedback that will take you in a different direction. Brainstorm to make sure you're coming up with an angle that stands out from the norm. Sketch a few options before deciding on a winning design.
DESIGN WITH THE READER IN MIND. It goes without saying that design is an extremely important element of an Infographic. It can do wonders in dressing up a mundane topic. Just keep the reader in mind during execution. Make sure the information flows naturally in a format that's easy to read. Put the most interesting information at the top (above the fold), and throw in fun facts amidst heavier content. Always assume readers are completely unfamiliar with the subject matter; develop and organize the Infographic from top to bottom. Your readers should be able to navigate it in a minute or two. Leave them satisfied, but wanting more. You want to elicit a reaction from them.
FACT CHECK/PROOFREAD.Face it. We're human. That's why it's key to make sure all your information is correct. Double check all content, including statistics and spelling of names, to ensure accuracy. It's also important to make sure all fonts and styles are consistent throughout.
TAKE THE TIME TO SHARE. OK. You did all that work, but there's still a lot more work to do. Viral occurrences are not always a natural phenomenon. Get the word out through an extensive social push — sharing on places like Facebook and Twitter. Be intentional in your strategy by reaching out to partners and sites that could benefit from hosting the information you're offering in your good-looking and incredibly smart Infographic.