by Guest Blogger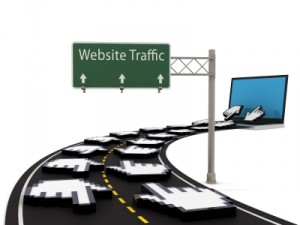 Your website's traffic can be your company's most valuable asset. Unfortunately, many companies are leaving value on the table and aren't tapping into the full potential value that their traffic can deliver. Implementing a few engagement channels for your audience can help boost the value that you're receiving from your traffic. By focusing on customer retention and audience activation, your business can and will start receiving the value it deserves from its online traffic.
Ultimately, you want to build engaging experiences that leave each and every single site visitor happy and satisfied. Let me walk you through the four most ways that I feel will help you get the most out of your traffic:
1. Content –
Content is King. It was true in 2000, it's true in 2011. While the SEO benefits that you can receive from a good content strategy will drive more traffic, the engagement benefits will deliver more conversions. A good content strategy will build an audience that keeps coming back to you, which gives your audience additional chances to convert on your products. To build such a strategy, start by blogging articles that your target market would actually want to read. Keep it short, educational, and actionable, and be sure to use social channels and email contacts to help distribute your content. Keep a regular posting schedule and avoid pausing or stopping your efforts.
2.  Customer Service –
Your customers are your most valuable site visitors. With proper engagement, customers can consider additional resell, up-sell, and cross-sell opportunities with your brand, as well as be encouraged to refer your business throughout their network. The best way to earn this value from your audience is by investing heavily in your customer service. In fact, a study in the Harvard Business Review found that "MBNA America, a Delaware-based credit card company, cut its 10% defection rate in half, [and its] profits rose a whopping 125%."
3. Advertise –
You spend a lot of time and money driving traffic to your website. Unfortunately, you have a 57% bounce rate and a 3% conversion rate. With retargeting, you can target ads specifically to the people who have left your site without converting. I've witnessed dozens of entrepreneurs and small companies effectively grow their business while using retargeting as a key tactic in their overall media strategy. One example – Zendesk, a web based customer support software, received a 1011% ROI solely from retargeting conversions over a 9 month period from October 2010 to June 2011.
4. Contest Giveaways –
There's a reason why cereal boxes always love promoting vacation giveaway contests: they work. If you're looking for an effective way to add value to your current customers while earning new ones, then a contest could be a big winner for your audience. Gist, a professional contact manager recently acquired by RIM, used iPad give-away contests to encourage its users to drive referral signups. The result: a $1.50 cost per acquired user.
Whether your traffic pool is small or large, your business can still increase your sales by better optimizing your online traffic. By focusing on audience activation and customer retention, you can start earning more value from the people who visit your website.  Building and executing a content strategy, focusing on customer service, implementing retargeting, and running contests are all effective ways to help you earn the value that you're missing out on. As a final piece of advice, none of these tactics can actually be effective unless you act on them – so stop reading and start doing!
This is a guest post from Samir Soriano, the Director of Marketing at ReTargeter. Samir has a passion for helping businesses grow through marketing.