by Mitch Causey
As a continuation of my post "The Many Hats of an SEO," I will be writing periodic posts about different positions in our company. These posts will describe why these positions are necessary for SEO success – giving people outside of the SEO industry more insight into how we operate.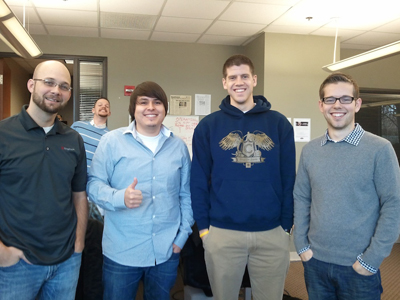 This first post discusses the role of the search specialist commonly known as the "SEO". We typically refer to SEOs as either being an "SEO Consultant" in an agency environment or an "in-house SEO" if he operates within an enterprise company. Either way, the job description and audience is typically the same. The SEO's job consists of creating actionable and measurable strategies to ensure the success of websites in search rankings. The SEO's audience generally includes the marketing department, the IT department and upper level management of the company that owns the website.
To write this post, I posed a series of questions to my SEO colleagues here at Slingshot SEO. I will let their answers do most of the talking.
Question 1: Please describe your position and how it affects search engine rankings.
Jesse Laffen, Consultant Manager: "Consulting is the pivot point for SEO success for our clients. There are so many things you can do to try to get rankings, but without the right prescription, you're going to waste a lot of your time and effort."
Jason Whitfield, SEO Consultant: "Our role is to analyze, monitor and provide actionable data to clients for the purpose of SEO and ultimately, higher rankings."
Evan Titus, SEO Consultant: "It is our responsibility to work with the client to improve their rankings as quickly and efficiently as possible. However this only works if the client is fully on board with our recommendations. The client must be willing to meet us in the middle when it comes to achieving these rankings."
Question 2: What is the most challenging part of your position?
Laffen: "Selling each department within a company on the benefits of ranking well in Google and Bing and directing their efforts toward doing what's best for their company's domain."
Chris Cruz, SEO Consultant: "Identifying opportunities or issues may start to become second nature to the consultant. Finding actionable solutions within Slingshot SEO and the client's available resources is the true test of a talented SEO."
Robbie Williams, SEO Consultant: "The drastic difference in the environment of one domain/marketplace to another and how that affects the SEO strategy around each individual domain. (That being said, it's probably the most intriguing part of the game as well!)"
Question 3: What is the easiest part of your position?
The answers to this question were unique because everyone pretty much skirted the question, making inside jokes and humorously commenting that there is no easy part. In spite of that, I did get a good quote.
Williams: "The easiest part of my position is getting along with my co-workers. This is challenging in other workplaces, but here at Slingshot SEO the culture and collective attitude that surrounds search is both addictive and infectious!"
Question 4: What do you find most fulfilling about your position?
Cruz: "Having influence on a tool that millions upon millions of people use every day and using that influence to bring traffic and revenue to our clients."
Whitfield: "Having a direct impact on client site performance in the SEO realm and being able to identify major ranking concerns. Also, being able to learn, research, test, implement and see the direct impact those actions have caused on rankings."
Titus: "The most fulfilling part of the position is when you find that missing recommendation, suggest it, the client does it and they shoot up in the SERP."
Question 5: What skills are necessary to be successful at your position?
I cheated here and added this question after the interview, so this is my own answer. To be a successful SEO at the technical level, it is necessary to know and understand math and statistics, coding languages (HTML, CSS and JavaScript) and Microsoft Excel among other things. But SEO is not just wrapped up in technology; being a successful SEO also requires strategy, effective communication, creativity and being able to boil down the technical side so that a non-technical audience can understand.
As you can see, the SEO plays an  important role when it comes to generating better search rankings. He/She evaluates the website and creates a strategy to make the website better. Then, he/she evaluates the results and creates a new strategy to take the site to the next level.
So what has been your experience with SEOs? Do they effectively evaluate your site and create a custom strategy for search success?  We'd love to hear your thoughts in the comment section below.