by Casey Szulc
What started as a simple marketing ploy in 2005, the Monday following Thanksgiving, known as "Cyber Monday," has quickly become the largest online shopping day of the year.
With $1.028 billion in online spending, Cyber Monday 2010 was the heaviest online spending day in history and the first to surpass the billion-dollar threshold, according to ComScore. It generated 16% more spending than the previous year, and retailers could be in for another record-breaking day on November 28.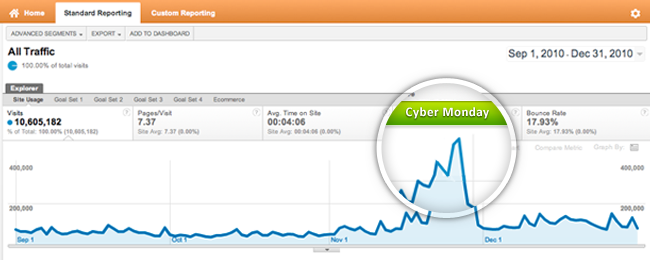 Slingshot SEO analyzed last year's traffic data on 91 websites against their daily traffic averages, and here's the data:
– The average increase in organic search traffic on Cyber Monday was 39.8%.
– The average increase in all traffic on Cyber Monday was 37.9%.
– 52 out of 91 sites saw an increase in organic search traffic by 25% or more.
– One major retailer (> 30,000 daily organic visits) saw an increase of 187.08% on Cyber Monday with 88,598 visits from just organic search.
– 88 out of 91 sites had a higher increase in organic traffic on Cyber Monday than on Black Friday.
– These sites averaged 100.4% more organic traffic on Cyber Monday than on Black Friday.
Even though Black Friday kicks off the holiday shopping season, the peak in online purchases doesn't occur until Cyber Monday. It's an exciting weekend for retailers and shoppers, and you don't need a Tickle-Me Elmo to laugh uncontrollably at all of the amazing deals. Here's an SEO checklist that even a Cabbage Patch Kid could follow, so you can make the most out of Cyber Monday and leave your competitors blinking like Furby.
The Holiday SEO Checklist from Slingshot SEO
1. Offer promotions.
Give shoppers a reason to buy directly from your site by offering free shipping, giveaways, or X% off the retail price.
2. Optimize your meta descriptions.
Make them compelling and be sure to emphasize that you are having a holiday sale.
3. Use deal terms on your site.
(examples: sale, half off, free, Black Friday, Cyber Monday, one-day sale, gifts, presents, free shipping, etc.)
4. Don't force users to log in.
Now is not the time to start a customer loyalty program. Don't lengthen the e-commerce funnel. Keep it short, and keep it simple. You want to capture as many Cyber Monday sales as possible.
5. Get listed on Cyber Monday sites.
There are a number of different sites that are listed specifically for Cyber Monday sales. Get on those lists.
6. Use social media.
Have tweets and Facebook posts prepared in advance. Also, consider making an instructional or humorous YouTube video to expand your social brand presence.
7. Email your existing customer base.
Offer returning customers an exclusive promotion.
8. Prepare for an increase in traffic.
Make sure your servers don't crash from more people. This happened to Target earlier this year after an unexpected high demand for a fashion line.
9. Bid against your competitors.
Use spyfu.com to see what PPC terms your competitors are bidding on. Bid on similar terms and be sure to emphasize your lower costs.
10. Optimize your mobile site.
Make sure your company can be located on Google Maps, FourSquare, and other local sites. Include contact information on your mobile site (phone numbers, email, SMS info).
Have a happy and safe Thanksgiving!